The Best Choice
Aflamo fireplaces gives you the joy of ambiance and atmosphere of a fire throughout the year. We specialize in the production of electric fireplaces and have the largest collection of electric wall mount, wall hanging and built in fireplaces.
We are selling todays modern fires with the best flames and ambiance. Directly to the customer (B2C) and do not offer a dealer network, this gives you as a customer the benefit of every day low prices.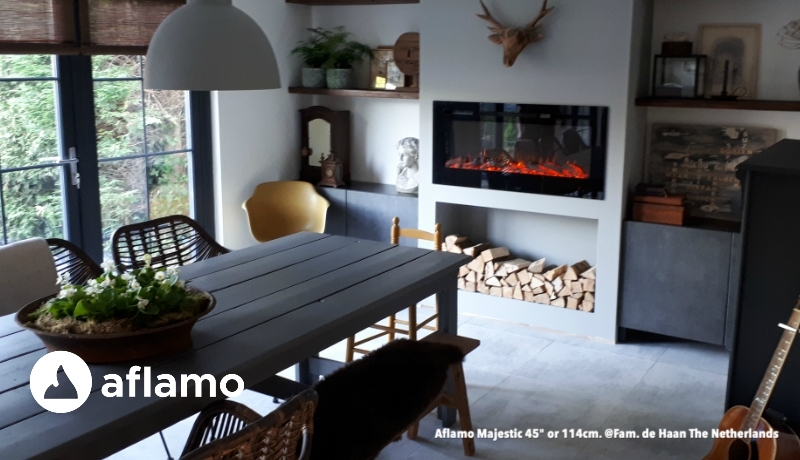 Premium Quality Products
All our modern electric fireplaces are first class quality products, beautiful designed en produced by the best engineers. Aflamo offers you electric fires that align perfectly with your personal tastes whether you're looking for a fireplace under your TV, a small built-in firebox or an electric fireplace to revitalize an old wood-fireplace. A great benefit of Aflamo fireplaces, it does not require a chimney or fluepipes, place your electric fireplace anywhere you want it to be. Aflamo is the smart choice for you!
Green Power Heat
An Aflamo electric fireplace has a big advantage over traditional wood or gas fireplaces. Our fireplaces are ventilation free and do not produce smoke. Aflamo electric fireplaces offer a Zero Emission heat source when using green solar or wind power. Not only is this healthy for your home, it is also safe for your children and pets.
Use your Aflamo fireplace for 'Zone Heating'. Aflamo offers you beautiful electric fireplaces in all different shapes and sizes and every fireplace comes with a Power Heat. Zone heating provides you immediate warmth without heating your entire house. So start saving on your energy bill today and create ambiance with the most realistic flame effect Aflamo has to offer. Aflamo is the smart choice for you!

Aflamo Fireplaces Almere is the fireplace centre for The Netherlands, Germany, EU en Belgium.
The best modern fires, luxury flames and ambiance for your home.
Aflamo Experience Center
De Striptekenaar 34-A
1336 CM ALMERE
036-8419959
| | |
| --- | --- |
| Maandag | Gesloten |
| Dinsdag | Gesloten |
| Woensdag | 11.00 - 16.00 |
| Donderdag | 11.00 - 16.00 |
| Vrijdag | 11.00 - 16.00 |
| Zaterdag | 10.00 - 17.00 |
Shopping cart
No items in shopping cart.